SureCare Franchise
SureCare Champions
21st May 2010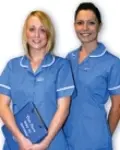 Desiree Lambert of SureCare (Warwickshire), Kate Jones and Kim Downey of SureCare (Wyre Forest & Bridgnorth) are flying the flag for dignity in care as they take on the title of Dignity Champions.
The campaign promoted by the department of health was launched in 2006 and aims to achieve higher levels of respect and dignity for people who use home care services.
en measures of a high quality service that respects people's dignity are:
Having a zero tolerance to all forms of abuse
Supporting people with the same respect that you would want for yourself or member of your family.
Treat each person as an individual with a personalised service.
Enable people to maintain the maximum possible level of independence, choice and control.
Listen and support people to express their needs and wants.
Respect people's right to privacy.
Ensure people feel able to complain without fear of retribution.
Engage with family members.
Assist people to maintain confidence and a positive self-esteem.
Act to alleviate loneliness and isolation.
To find out more about SureCare simply complete the form below

SureCare Franchise News