Aspray Franchise
Save money by giving your home a Spring Health Check
27th May 2011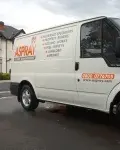 Spring is in the air, the cold winter behind us and bank holidays are just around the corner. This means April is the ideal time for property homeowners to carry out a spring 'Health Check', according to James Whittle, Managing Director of Aspray, a national insurance claims management and property repair company.
Here James gives his five top tips for making sure your property is in great condition, leaving you to enjoy a relaxing and stress free summer.
1. Check your roof for damage – it's important to check your roof to see if any tiles are damaged, loose or missing. It's also worth taking a look at the pointing of your chimney, looking out for cracks. For properties with flat roofs, make sure lead flashings are intact and that puddles are swept off regularly.
2. Clear out guttering and downpipes – pipes and guttering will have taken a battering last winter. Check that it's clear from debris and that downpipes are fixed firmly to the wall. Blocked gutters can result in rainwater leaking into your home so be sure to keep them clear.
3. Review the condition of your outside walls - deteriorating brickwork and peeling paintwork should be dealt with swiftly as rainwater, draughts and damp will penetrate through tiny cracks. You can fill small cracks and holes with quick-setting mortar. Ventilation bricks can get blocked so make sure they are clear. Modern brickwork can be treated with a weather proof coat but advice must be taken before application.
4. Repair and reseal windows - cracked, peeling paintwork, loose putty and rotten frames need to be repaired and sealed. Consider replacing badly damaged windows by sourcing a range of quotes from window providers.
5. Fix patio and driveway erosion – the quickest way to 'de-winter' your patio is to use a pressure washer which can sometimes reveal potholes, cracks and tarmac erosion. Make sure these are repaired before the April showers start to fall. Damaged or loose slabs can be dangerous so ensure that you treat this as top priority.
Every year Aspray experiences a rise in calls due to the fact that home owners are forgetting to carry out basic maintenance on their property. If this happens, Aspray is at hand to help fix any property related problems, as James Whittle explains:
"Whatever the problem, Aspray can be with you within 24 hours of receiving your call. We liaise with your insurance company on your behalf and organise for all the necessary repairs to be carried out by our reputable and reliable team of skilled contractors, leaving you to get on with your life."
To find out more information on Aspray franchise simply complete the form below

Aspray Franchise News