Aspray Franchise
Aspray - Big Freeze Boosts Turnover
25th May 2011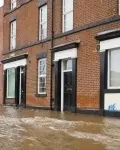 National insurance claims management and property repair franchise business – Aspray – has seen a significant boost in the turnover following last year's record breaking 'big freeze'.
Whilst the UK experienced extreme ice, snow and the coldest weather recorded since 1910, Aspray dealt with record enquiries and saw the average franchisee turnover increase by nearly 30% compared to 2009.
This increase concurs with figures released recently by The Association of British Insurers (ABI) that revealed for every day during December 2010 insurers dealt with over 12,000 claims at a cost of £38 million. The ABI went on to reveal insurers dealt with 467,000 claims for damage to homes, businesses and vehicles. For property, the biggest problem was burst pipes, with more than 100,000 claims. The cost of these claims, at £680million, was up 35% from the previous winter.
Although UK weather has since calmed, Aspray is continuing to experience an increased level of interest about the service it offers. The number of enquiries received in January 2011 has increased by 16% versus the same month in 2010.
Commenting on Aspray's recent performance, James Whittle, Managing Director said:
'Our top performing franchisees are doing extremely well in an incredibly competitive sector. The freezing month of December was a busy time with customers benefiting from Aspray managing the whole process for them, from the insurance claim to the actual property repair work, making any property disasters stress free.'
To find out more infomation on Aspray Franchise simply complete the form below

Aspray Franchise News