Money Advice and Planning Franchise
Reduce Your Costs and Maximise Your Turnover
16th June 2009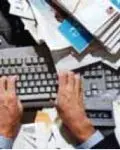 "Administration Costs Can Be A Big Drain On Resources" MAP Finances
Is your administration costing you £5,000 a month?
The main benefit of a franchise with Money Advice and Planning Ltd (MAP Finances) is that it allows you more time to sell and make a far greater profit.
We spoke to one adviser recently who went out to see clients every Monday and Tuesday and then spent Wednesday, Thursday and Friday in his office doing paperwork. This was the only way he could operate.
To go out and buy in the services of an administration person would have been too expensive, at something like £18k plus Employers NIC. This would also have put too much financial pressure on him as well, knowing that he needed to earn enough each month to cover this person's wages and his own earnings.
By coming into the franchise, this adviser gets all his administration done for him and can now look forward to going out to see clients five days a week, instead of just two. That doesn't quite mean that he will sell 250% of what he did before, but at least he can have a damn good try now.
If you think about it, if you operate as this adviser did and you did all your own administration, you will turn out to be a very expensive administration person. If you can earn say £5,000 a month on two days a week there should not be much of a problem to aim and achieve £10,000 a month in commission, knowing that all your administration is done for you.
To find out more about starting your own MAPfinances Franchise, simply complete the form below

Money Advice and Planning Franchise News