Money Advice and Planning Franchise
Pensions/ Investments MAPíped out
8th November 2010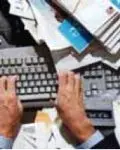 Our franchisees really appreciate the way that we do pensions/investments for clients as this is so different to what anyone else does. In our opinion, this will give our advisers a head start over other advisers, when they can show a client our methodology for investing.
To start with, we never put our clients money into just one or two funds – we usually always use 10 funds with 10% of the clients money in each – so that gets us off to a good spread of funds to start with.
The funds are taken from our Recommended Fund List RFL), which is done on a quarterly basis, so that we pick up current trends in investment returns. The RFL includes all those funds that are CONSISTENT in their performance, and of course are showing something half decent in terms of returns as well.
We also use the RFL to analyse existing clients holdings, and if they have funds that have since dropped off the RFL – then we merely switch them into funds that still are there. This way, we aim to always keep our clients funds in the better performing areas at all times – not just at the commencement.
All we are trying to do is to MAP the correct way to place pensions/investments for clients, and so give clients some comfort that their investments of whatever nature, are being well looked after. We have had a reasonable bit of business over the years, simply because clients know that we are not going to place pensions or investments and then walk away – instead we are more active in monitoring where their money is – and that is how we give clients a service that we think is second to none.
Our advisers/franchisees will have a good start on other advisers using this method, and it is solely because we have developed the underlying systems to do this for clients.
To find out further information from MAP simply complete the form below

Money Advice and Planning Franchise News