Revive! Franchise
Cliff Revives His Future
6th August 2010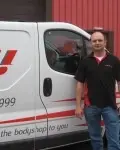 "Buying a top quality franchise gives me the best of both worlds." - Cliff Wilton, Revive! Franchisee
This time last year former telecoms research and development support manager Cliff Wilton was facing redundancy and worried about his future. Now, just a few months later, he's launched his own mobile business repairing scuffs and scrapes to vehicle bodywork and alloy wheels - and is so successful he's already making expansion plans.
Cliff (49) has always wanted to run his own business and decided to invest his redundancy settlement in buying a franchise. After thorough research he chose award-winning cosmetic SMART* repair specialist Revive! and hasn't looked back since. He now owns Revive! Dartford and his territory covers all of North Kent.
Revive! has one of the largest networks of technicians throughout the UK and is the preferred supplier of cosmetic SMART repairs to major car dealerships and fleet operators serving customers including Alfa Romeo Fiat, Lex Autolease and Mercedes.
Having lived in Hartley for over 25 years, Cliff is well known in the community. He smashed the Revive! record for first week sales and in addition to working for local dealerships and garages he is building up a bank of private customers who want to keep their cars looking smart and scratch-free.
He said: "Buying a top quality franchise gives me the best of both worlds. I am my own boss, but at the same time I have all of the benefits of a proven business model and a team of experts to provide on going support, generate sales leads and help me grow my business.
"I've always been interested in cars so it made sense for me to set up a business working in a field I enjoy. No two days are the same and I get a huge sense of satisfaction from doing a job really well.
"Because I go to customers' premises or home to carry out the work it's far more convenient than having to take the vehicle into the garage and a lot more cost effective saving time and money," he added.
With the future looking rosy Cliff is hoping to be able to buy a second van next year and employ another technician to expand the business.
Cliff's top tips for keeping your vehicle bodywork in tip-top condition are:
Always use a good quality wash system – cheap detergents can damage shine or fade paint.
Use high quality chamois or micro fibre cloths to dry the vehicle
Do not valet vehicles in bright sunlight
Regularly apply a high quality wax to the vehicle – at least once a month
Remove all watches, bracelets, rings or other jewellery before applying wax.
Don't apply/polish wax in circles, always use straight lines
Regularly apply a treatment to the interior of the vehicle e.g. leather to stop it drying and cracking – use a good quality leather care cream
Garage vehicles when not in use and avoid parking under trees for any length of time
Have the vehicles inspected regularly by an expert to identify scuffs/ scratches or stone chips
Get minor scratches, scuffs or stone chips repaired as soon as possible to avoid corrosion – nip minor damage n the bud as corrosion can seriously affect the trade-in or re-sale value of the vehicle.
To find out more about Revive! Franchise simply complete the form below

Revive! Franchise News