Bluebird Care Franchise
Edinburgh businesswoman scoops second award in six months
17th June 2009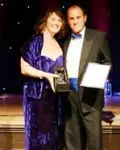 "We are completely thrilled by winning another award in six months"
Bluebird Care's Jane Perry has celebrated her business's first birthday by scooping a second award in six months.
Jane, who owns a Bluebird Care Management Franchise office at Castlebrae Business Centre in Edinburgh, has traded since June last year – and is going from strength to strength, despite recession
She triumphed in the 'best newcomer's' category at an awards ceremony organised by Scottish Care at Home, a national body that represents the private sector care industry north of the border.
Jane said, "We are completely thrilled by winning another award in six months. We are operating in difficult and challenging market conditions, so it's doubly gratifying to be acknowledged in this way." Jane owns one of Bluebird Care's 44 offices nationwide and was also voted best newcomer at Bluebird Care's own awards ceremony last winter.
Bluebird Care's managing director Paul Tarsey paid tribute to her achievement, saying "Jane has a winning business combination of talent, grit and sheer determination. She has established a thriving business, despite the recession and fully deserves this award."
Jane – who is also a foster mum – combined her business and accountancy background, with a proven track record for 'putting something back' into the community. She decided to set up a business and take control of her own destiny after receiving her fourth redundancy notice in 20 years.
She said: "Although I come from a business background, I wanted something which made sound commercial sense but also fulfilled a need in the community. Research, plus my own experience, proves that people would much rather receive care in the comfort of their own homes, as opposed to going into residential care."
"As a full-time foster carer, with my husband John, I know how rewarding it is to do something worthwhile, that really makes a difference to people's lives."
Striking out on her own was a brave move in the current economic climate, but Jane has been a significant player in Bluebird Care's success in Scotland.
The Hampshire-based company has two other offices in Glasgow, plus another serving Dumfries.
The Bluebird Care management franchise is maintaining its impressive month-on-month growth, rather than falling victim to the credit crunch. The company now has 44 offices in five different countries – stretching from Exeter to Canterbury and Limerick to Edinburgh.

Bluebird Care Franchise News