Bluebird Care Franchise
Fastest-growing care franchisor sponsors racing legends at Le Mans
17th June 2009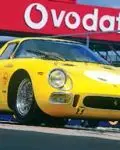 "Our involvement in Le Mans ensures we are doing our bit to promote the UK franchising industry", Simon Dalziel, Bluebird Care Franchise Director
The UK's fastest growing home care franchisor, Bluebird Care, saw a priceless Ferrari driver lift the trophy at a race the company helped sponsor earlier this month
The Le Mans Legends race was run prior to this year's Le Mans 24 Hours and was covered on the English-language station, Radio Le Mans, courtesy of a sponsorship package by Petersfield-based Bluebird Care.
"This is the second time we have been involved in this event and we saw a huge amount of interest from would-be franchise owners after our coverage last year", said Bluebird Care Franchise Director Simon Dalziel. "The fact that the race (for historic cars up to 1965) was won by such an iconic and remarkable car, makes our involvement even sweeter."
"We'd also like to think that our involvement in Le Mans ensures we are doing our bit to promote the UK franchising industry," said Simon.
Bluebird Care Management Franchise sees motor sport as mirroring its own business ethic. Simon added: "Nothing is left to chance and nothing is taken for granted - we strive every day to remain at the top of the list of care franchisors and we are competitive! It is the same in motor racing, only the very best succeed and we are delighted that Carlos and his team proved that the cream always rises to the top."
The yellow Ferrari 250LM was driven by its owner, Carlos Monteverde, in a fiercely contested race with the UK's Justin Law - driving a Jaguar. The Radio Le Mans coverage was heard by well over a million people over the weekend, both at the French track and on the internet.
The Bluebird Care Management Franchise opened 18 new offices in 2008/09 and now has 50 trading across England, Scotland, Wales and Ireland – with a group turnover topping £5m.
Bluebird Care's rapid expansion can be attributed to a variety of factors – but mainly reflects public demand for professional care in people's own homes, based on personal preference and cost-effectiveness. As a result, the company delivered over 500,000 home care visits during the last financial year – with the emphasis on offering good old-fashioned service and treating every customer as an individual.
It also recently announced a partnership with high-street pharmacist Boots UK – to offer a seamless service for customers choosing care and support in the comfort of their own homes.

Bluebird Care Franchise News