Bluebird Care Franchise
Bluebird Care: Recession Resilient
2nd February 2009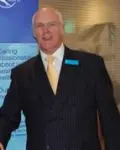 "Our customers are happy with the dependable, quality service we provide" - Paul Tarsey
Bluebird Care is set to create 500 new jobs in 2009 by opening eleven new offices during the first few weeks of 2009.
Just two years ago, the Hampshire-based company had one office, but now has 34 trading across England, Scotland and Ireland and reports an impressive month-on-month growth of 20 per cent in 2008, despite global recession.
In the past 18 months, Bluebird Care has grown by 769 per cent and turnover has hit the £5 million mark. Early predictions for this year indicate that eleven new offices will be opened in the first quarter - with another seven already planned for later in the year.
Potentially, each office recruits between 40 and 50 carers. These predicted figures could well exceed expectations as new franchisees come forward, often using redundancy payments to fund start-up costs for their new venture.
The Bluebird Care success story started in 2004, when founders Paul and Lisa Tarsey operated from a small office in Petersfield. In June 2006, they unveiled plans to offer franchise opportunities - and are now a nationwide company, reporting significant economic growth.
Bluebird Care's rapid expansion can be attributed to a variety of factors - but mainly reflects public demand for professional care in people's own homes, based on personal preference and cost-effectiveness.
It also mirrors Government policy, aimed at helping older people to stay at home where possible. Managing director Paul Tarsey said: "We place our emphasis on value for money, professionalism and good old fashioned service! The principle of receiving professional care at home is far more cost-effective than selling up and moving into a residential home - which can cost up to £1,000 a week. Staying at home is also the favoured option for the vast majority of older or vulnerable people".
"We have come a long way from the empty second-floor office where we started back in 2004. Now, four years later, there are Bluebird Care branches in three different countries and that is a result of both our customers being happy with the dependable, quality service we provide and our franchisees being fully supported."
Bluebird Care specialises in working with people requiring health care and their families, alongside Social Services, GPs and Primary Care Trusts. It also offers live-in support for people who would like, or who need, a greater level of care provision.

Bluebird Care Franchise News