Bluebird Care Franchise
Fancy running your own successful care business?
11th May 2011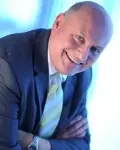 Two of the biggest names in nationwide franchising - Bluebird Care, the UK's fastest growing care at home franchise company and Lloyds TSB Commercial are teaming up at Scottish Franchise Week to host a presentation evening on 'The Bluebird Care Franchise Opportunity'.
The event will take place at the Hilton Glasgow on Thursday 19th May 2011 at 6pm and will provide prospective franchise owners with all the essential knowledge needed in order to launch and run a successful care franchise business.
The UK's care industry is now worth over £20bn a year, providing a massive opportunity for franchise owners to tap into. With local authority budgets being substantially cut and residential care home costs running into thousands of pounds a year, care in the home presents a very profitable business opportunity.
Bluebird Care is the largest provider of privately funded social care in the UK and Ireland and has achieved some extremely impressive results in just four years since it franchised the business. The company now has over 100 franchise territories nationwide with the brand currently turning over well in excess of £30m a year – growing from only £700K in March 2007. Across the network, the company delivers over 4,200 care visits a day and employs in the region of 1,000 care staff.
Simon Dalziel, Franchise Director for Bluebird Care said: "A Bluebird Care franchise presents a very robust and profitable business opportunity to people in Scotland. We currently have a number of extremely successful Bluebird Care Franchise Offices up and running in Scotland and our presentation at the Glasgow Hilton on the 19th May will explain how to become part of our established business model. We will also detail our comprehensive franchise support programme working closely with our franchise owners to achieve a successful, profitable business".
Richard Holden, Head of Franchising for Lloyds TSB Commercial said: "Lloyds TSB Commercial supports the growth of ethical franchising in Scotland and this event with Bluebird Care will explain how people can confidently approach banks for funding and what they should include in their 'all important' business plan. Thorough research is essential for anyone looking to invest in a franchise opportunity and events like this help to build a greater understanding of the benefits and pitfalls so attendees can make an informed decision about their investment options".
To find out more information about Bluebird Care franchise simply complete the form below

Bluebird Care Franchise News