Bluebird Care Franchise
Cost-effective, quality care paramount following spending review says MD
2nd November 2010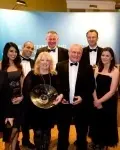 Bluebird Care has reiterated its commitment to delivering high-quality yet cost-effective care at home following last week's Government spending review that saw council budgets cut by 26% over the next four years. Bluebird Care's Group Managing Director Paul Tarsey delivered the key message to 130 delegates at the company's annual conference in Warwickshire on Saturday (October 23).
Paul told the conference, "Now, more than ever, there is a need for the most cost-effective and high-quality care for people and receiving care at home is a far cheaper option than going into residential care. It is also enabling people to stay in their homes for longer - maintaining their independence."
Delegates also heard that the Bluebird Care's team of care workers now make over one million care visits a year from Scotland to West Sussex and Northern Ireland to Maidstone. The rapid growth has been achieved in the midst of economic turmoil and recession, with no compromise on customer service or high standards of care.
Conference guest speaker Paralympian Mark Eccleston described Bluebird Care's award-winning staff as "champions". The sportsman - who defied all the odds to become a silver medallist after a horrific accident as a 16-year-old – motivated delegates by recounting his amazing story at the Marriott Hotel and Country Club, Forest of Arden, Warwickshire.
Paul Tarsey added, "Mark's story is an inspiration to us all and helped enthuse and motivate our franchise owners to raise the bar and strive to do better in the future." Bluebird Care's many achievements included notching up sustained business growth, with each month's performance outstripping the last; and reaching the finals of the British Franchise Association's annual awards.
Hampshire-based Bluebird Care staged the conference as part of its ongoing commitment to staff support and training. The event acknowledges franchise owners' achievements in building thriving businesses in challenging economic times and includes an awards ceremony for six categories.
Winners were: Newcomer of the Year – Chichester Chartered accountant Paul Barry and qualified nurse wife Kate decided to run a business together after seeing first hand what happens when older people want to leave hospital and can't return home. Since opening their office just outside Chichester city centre, the dynamic pair have already employed 23 staff and are looking to employ another 10.
Spirit of Bluebird Care Award Winner – Bury Bluebird Care Bury, have overcome all the odds to grow a successful venture in the midst of recession, winning a special award - inspired by the legendary Donald Campbell. Terry and Justine Bowman were chosen above 95 others for mustering renewed vigour and enthusiasm, despite being in the throes of one of the toughest economic climates in decades.
South East Regional Franchise of the Year – Maidstone and Tonbridge Priyanka Pawar decided to open an office after working alongside husband Bobby in the care industry. She wanted to provide a good quality of service to people living in their own homes - giving them the much needed respect, dignity and support that they deserved.
South West Regional Franchise of the Year – West Berks and Basingstoke In the past year the Bluebird Care Newbury office has become the fastest growing homecare provider in the area; with a team of fully trained and police checked care workers. Directors and co-owners, John Prendergast and Phil Miles, accepted the award on behalf of their staff.
Northern Regional Franchise of the Year – Leeds Opened by David Brown and Rod Miller in August 2008 – from delivering just 243 care visits in January 2009, Bluebird Care Leeds has expanded to a staggering 2,700 visits just 18 months later.
Midlands Regional Franchise of the Year & overall winner of Franchise of the Year – Stafford Stafford businesswoman Sue Milakovic has beaten off challenges from 95 other offices to scoop Bluebird Care's franchise owner the year award – just six months after opening her care-at-home business in the town.
Sue – whose care workers carry out 1,000 visits a week to older and vulnerable people – has created 28 jobs in Stafford and has seen her new business enjoy remarkable growth in record time.
Sue and her husband, John, have played a special role in the Bluebird Care success story as they were the company's first franchise owners back in April 2007, when they opened an office in Cannock, West Midlands.
To find out more details about Bluebird Care simply complete the form below

Bluebird Care Franchise News