Bluebird Care Franchise
Bluebird Care supports "unsung heroes" in National Carers' Week
22nd June 2010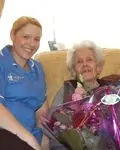 "It's important to support, recognise and celebrate the incredible work that carers do - and backing Carers' Week is a key part of that." - Paul Tarsey, Bluebird Care
Bluebird Care, the UK's foremost care-at-home provider, has paid tribute to Britain's band of six million "unsung heroes" during National Carers' Week and backed calls for them to receive greater support.
Bluebird Care works alongside thousands of carers across the UK and Ireland, providing professional support to people in their homes – and sees first hand the invaluable work provided by relatives and friends.
Managing Director Paul Tarsey said, "We often work with our customers' families so we know first hand the commitment and hard work that carers invest in improving people's lives. Throughout the UK, there are hundreds of thousands of unsung heroes caring for a relative and Carers' Week helps highlight the issues they face. It's important to support, recognise and celebrate the incredible work that carers do - and backing Carers' Week is a key part of that."
National Carers' Week (June 14 to 20) has chosen the theme - A life of my own – to mark its 10th year. It aims to raise awareness of the challenges facing carers, and calls for improved:
Access to relevant and practical information
Respite and the chance to take a break
Crisis and financial support.
Bluebird Care, based in Charles Street, Petersfield, has 75 offices across the UK and Ireland and its team of care workers provide around 45,000 care visits a month.
The company specialises in working with people requiring health care and their families, including live-in support for people who would like, or who need, a greater level of care provision.
In recognition of the invaluable work carried out by its own teams of care workers, Bluebird Care invests in ongoing and rigorous staff training, to ensure customers are getting the best possible service. This training – and ethos of good old-fashioned service – resulted in a top care industry award last month (May).
Gail Syratt from the Bluebird Care office in Edinburgh beat off competition from 776 other care managers across Scotland to scoop the coveted title of Care Manager of the Year at the Scottish Care at Home Awards.
To find out more information about Bluebird Care
simply complete the form below

Bluebird Care Franchise News