Bluebird Care Franchise
Bluebird Care director interviewed on BBC's Newsnight
22nd February 2010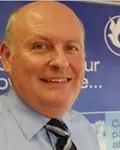 The UK's foremost care-at-home franchiser Bluebird Care were interviewed as industry experts yesterday (Thursday), as part of a BBC Newsnight feature focusing on the future of social care in England.
The Hampshire-firm's franchise director, Simon Dalziel, joined other experts as Newsnight put social care under the spotlight – and examined the issues facing future governments in paying for older people's care.
During his interview, Simon highlighted the growing pressures facing social service departments and NHS primary care trusts – and the subsequent challenges faced by private care-at-home providers in providing a first-class service that both the public sector, and individuals, can afford.
One of Bluebird Care's customers – a former wartime fighter pilot and later a successful engineer – was featured on Newsnight, receiving one-to-one care from a Bluebird Care employee.
His daughter told the BBC that Bluebird Care's service was ideal for her father – as two care workers were with him for much of the day, providing practical support and stimulation, while allowing him to maintain his independence in the comfort of his own home.
She said, "It's fantastic. He gets a lot of attention, food that he likes, and people helping to stimulate him …there is no way he would get that in a care home."
To find out more about Bluebird Care Franchise simply complete the form below

Bluebird Care Franchise News