TaxAssist Accountants Franchise
TaxAssist Accountants celebrate 90th Shop Front
19th August 2009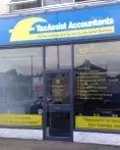 "Since moving into my shop front the difference to my business has been extraordinary" - John Thomas, Newport TaxAssist franchisee
TaxAssist Accountants, the UK's leading accountancy and taxation service for small businesses, is delighted to announce the opening of their 90th Shop Front. The franchisee that hit the 90th spot is John Thomas who operates from Newport.
John, who joined TaxAssist Accountants on the January 2009 training course and moved into his shop front in May, advises:
"When I joined TaxAssist Accountants I immediately saw the benefits of being based in a shop front. I spoke with other franchisees that made the move and all the positive things they told me were backed up by the statistical evidence. I knew I was required to be in a shop front within three years so I decided to go into a shop front as soon as possible to save myself the cost and aggravation of having to move in a couple of years.
"Since moving into my shop front the difference to my business has been extraordinary with business literally walking through the door!"
The shop front concept was developed with the aim of attracting the local small sized business owner with a fresh, modern and stylish look. Not only does the shop front lend visibility and accessibility, it also offers the credibility that working from home or an office simply could not provide.
With 165 franchise areas awarded, this means that well over half of the TaxAssist Accountants' network is now operating from shop front premises. The TaxAssist Accountants' network is now looking after over 29,000 clients making them the largest network of accountants in the UK looking after small businesses.
Franchisees do not need any formal accountancy qualifications as full training is given, but you do need to have a relevant career background, be self motivated, disciplined, ambitious, hardworking and keen to build a substantial successful business.
If you would like to find out more about joining the TaxAssist Accountants' network in either the UK or the Republic of Ireland where we have recently launched, then please click on the link below.

TaxAssist Accountants Franchise News