TaxAssist Accountants Franchise
TaxAssist Accountants joins forces with ActionCOACH to show business owners how to become more successful.
23rd May 2007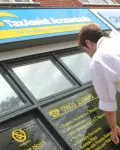 "Working with TaxAssist Accountants allows us access to a network of accountants that we can recommend to our clients." - Jodie Shaw, ActionCOACH
TaxAssist Accountants, the UK's leading accountancy and taxation specialists for services to small business, has teamed up with ActionCOACH to provide both their clients and franchisees with a unique opportunity to receive world class business coaching from their very own local ActionCOACH.
This training will be delivered through a combination of co-branded FREE seminars, a variety of business workshops, group sessions and 1-2-1 business coaching. The deal will give clients of TaxAssist Accountants further opportunities to become more successful than they already are, and will enable TaxAssist Accountants to stand out from the competition even further.
Sarah Robertson, Business Development Director of TaxAssist Accountants says "I am delighted that we are teaming up with ActionCOACH to provide these services and this again highlights our mission to be the one stop shop for small businesses. It is further proof of the exceptionally high level of training and services that we offer our franchisees and their clients."
Jodie Shaw, ActionCOACH's Chief Marketing Officer says "Working with TaxAssist Accountants allows us access to a network of accountants that we can recommend to our clients. Having a good accountant on your side can make or break a business and that's one of the core lessons our coaches demonstrate to our clients. ActionCOACH have been delivering this very message across the world and now we have a UK based network that we can work closely with."

TaxAssist Accountants Franchise News