TaxAssist Accountants Franchise
TaxAssist Accountants franchisee Jackie Bligh – Finalist in "Woman Franchisee of the Year" award
5th July 2011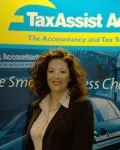 TaxAssist Accountants would like to congratulate their franchisee Jackie Bligh for winning through to the finals of the Encouraging Women into Franchising awards (EWIF) NatWest Woman franchisee of the year 2010.
The awards ceremony was held at the NatWest building in central London on May 10th, and recognised the most successful woman franchisees for the past year. The awards were the first of their kind, providing a unique opportunity to formally recognise the growing contribution women franchisees, women franchisors and women franchise service providers make to this sector. The event was attended by over 150 people from throughout the world of franchising.
Jackie won through to the final because of her phenomenal growth over the past five years, especially in the last year. Jackie joined TaxAssist Accountants in November 2005 and in that time has expanded to two franchise areas, including three shops covering Torquay, Paignton and Exeter.
Graeme Jones, head of franchising, NatWest said: "As the number one bank for franchising, NatWest was proud to be one of the sponsors of these awards and encourage more women to realise the benefits of running a successful franchise. NatWest are committed to developing female entrepreneurship, we have our own dedicated Women in Business Service as well as links with everywoman."
The Encouraging Women into Franchising Group was established in 2008, by Clive Sawyer, managing Director of Business Options, with the mission to inspire, encourage, educate and support women considering or involved in franchising through its network of ambassadors. The group is made up of representatives from throughout the whole franchise industry.
To find out more information about TaxAssist Accountants franchise simply complete the form below

TaxAssist Accountants Franchise News