Auditel Franchise
Swingin' in the Rain
4th December 2008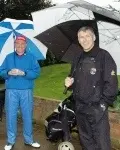 "Everyone had a really great time, in spite of the weather. I am already planning next year's tournament!" - Daryn Dodge, Auditel Franchisee
Auditel, the UK's leading home-based cost management franchise, held their Annual Golf Tournament last month. Those playing included Auditel franchisees, their clients and suppliers such as EDF, British Gas and Uniworld. The golfers assembled at Collingtree Park Golf Course in Northampton which was designed by Former Open and US Open Champion, Johnny Miller. Club secretary Les Pullan says, 'Collingtree Park is a unique test of golf that will challenge any handicap or reputation'.
Of the competing 19 teams, Steve Garnett of Auditel won the individual challenge, and partnered fellow Auditel franchisee, Robert Young, to win the team event.
Robert, who joined Auditel in 2007, says: "This was my first experience of the tournament and Steve and I had never met before. The course was as good as I had expected, but the weather wasn't – it rained constantly for the whole of the back 9! Without letting the rain dampen my spirits and affect my game, I played in my usual inconsistent way - one hole good, one hole bad. However Steve played superbly well, having completely mastered the course and the conditions. I was so fortunate to be paired with him, which enabled me to share the team prize. It was great to have the opportunity to socialise with my colleagues, clients and suppliers on and off the course".
Steve, who joined Auditel in 2004, says, "Robert is right – I was absolutely awesome! Seriously, it was also my first time at this event. I was impressed by the excellent condition and challenge that the course offered – especially given the downpours. Every hole was a challenge in terms of hazards as well as the rain driving into your face – no point trying to use a brolly! Robert is far too modest. We were a good team and as Robert was scoring well, I decided to play attacking golf. It was just one of those days when the drives weren't too far from the fairway and the putts went in. It was a testament to the day that everyone enjoyed themselves. It would have been a great day even if we had not won! The organisation was superb - from meeting each other over bacon butties before teeing off, to the prize giving at the end. I'm sure lightning won't strike twice but I look forward to defending our title next year"!
Despite the rain and difficult conditions the event proved to be a successful way for Auditel franchisees to network with suppliers and treat their clients to a superb day. Auditel franchisee, Daryn Dodge, who organised the event reports: "Everyone had a really great time, in spite of the weather. I am already planning next year's tournament"!

Auditel Franchise News