Auditel Franchise
Auditel and their partners combine to help recession-hit UK
16th July 2008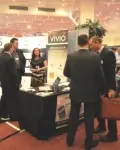 "This annual exhibition is one of the most important events in our calendar. It gives us a unique opportunity to build valuable relationships and develop our in-depth market knowledge." - Chris Allison, MD, Auditel
According to a recent survey conducted by major accountants Baker Tilly, the number of companies considering taking steps to reduce their costs almost doubled from 26 percent to 45 percent in March of this year.
Since 1994, Auditel have been specialists in managing the cost and purchase of business expenditure and are well placed to assist organisations in this difficult time. Their recent 'Total Cost of Purchase White Paper' spells out 'that businesses throughout the UK are spending far more on their business services then they need to.'
Auditel's Managing Director Chris Allison adds: "And now when the UK economic situation is looking at a downturn, we find an even greater need for our services. Our network is experiencing an increase in demand which creates a significant opportunity for our business."
Auditel's specialist overhead areas include communications, energy, business consumables, water and sewerage, premises management and finance related services. However they also work with market leaders across a wide range of other categories.
Last month saw a gathering of many of these organisations at the Auditel Suppliers' Exhibition, at Whittlebury Hall near Towcester. Those hosting stands included EDF Energy, British Gas, Shell LPG, Scottish & Southern Energy, Gazprom, Travelex, Royal Bank of Scotland, Uniworld and other leading telecommunications suppliers, plus major insurance brokers, finance companies and business machine suppliers.
Chris Allison comments: "This annual exhibition is one of the most important events in our calendar. It gives us a unique opportunity to build valuable relationships and develop our in-depth market knowledge. It also raises our profile as the UK's leading provider of independent cost and purchase management."

Auditel Franchise News