Auditel Franchise
Auditel manages the full spectrum of business costs
4th November 2010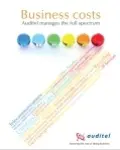 "We would never have made these savings without the involvement of Auditel and I would recommend them without hesitation." - David Gutteridge
Following the deregulation of the utilities markets, there was a seemingly impenetrable jungle of tariffs. Auditel - the UK's premier independent cost and purchase management specialist, was set up in 1994 to help businesses find their way. They are now achieving savings of 24% to 64% across the full spectrum of business costs – solutions that are not simple quick, short-term wins, but are both ethical and sustainable.
Auditel's expertise is supported by a vast knowledge bank, buying power and the wide-ranging top-level experience of over 170 highly-skilled cost and purchase management consultants. Among recent savings in the traditional cost areas are 33% on mobile phones, 43% on fixed line telecommunications, 32% on gas, 46% on water & sewerage, 46% on waste and 36% 0n electricity.
Savings for clients were also found in many other areas: 34% on janitorial supplies, 37% on print, 38% on clothing, 33% on LPG, 24% on haulage & freight, 33% on contract cleaning, 22% on merchant cards, 32% on stationery & office supplies, 64% on intruder alarms and 41% on photocopiers.
Auditel's 3,000 clients span every sector of the economy and range in size from multi-nationals to museums and from national charities to local manufacturers. Many started with one of our free Business Health Checks and they were delighted with the results.
This service is carried out using our unique Total Cost of Purchase® approach which provides an invaluable in-depth analysis of all business expenditure. This, coupled with our performance-driven contingency fee model, means that the whole Auditel approach is totally self-funding. There are no up-front fees, no hidden charges and no extras.
David Gutteridge, Managing Director of Standard Soap Company, says: "We have savings to date of over £100,000. Before we were introduced to Auditel, I thought we were running a pretty tight ship. We would never have made these savings without the involvement of Auditel and I would recommend them without hesitation."
To find out more about the Auditel Franchise Opportunity, complete the form below, now.

Auditel Franchise News