Auditel Franchise
Auditelís Time for Success
24th June 2010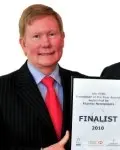 MD Chris Allison receiving the Award
Auditel, the executive franchise cost and purchase management specialist, has been much in demand and has scored major successes in the past few months.
This followed last year's achievement as finalists in the Franchise Marketing Awards for Best Website and Best Recruitment Advertisement. Earlier this year they were chosen to be a finalist for Best Franchisee Marketing Support and also nominated as one of eight finalists in the bfa/HSBC Franchisor of the Year, the industry's most prestigious award.
Auditel succeeds by combining an excellent business model with the most comprehensive professional training programme in the UK franchise industry. It includes printed, video, web-based, and face-to-face instruction. Ongoing support is provided by local and regional gatherings, workshops, personal development meetings, business reviews, accompanied prospect presentations, and national conferences.
Auditel take great pride in enabling every individual to express their talents. As one brand-new franchisee responded: "The training was excellent. It was very focused on our need to establish appropriate procedures with a view to operating professionally and efficiently."
Free Discovery Seminars are held at the company's offices where the latest audio-visual equipment is installed. Visitors can meet the Head Office team, ask questions, and discover the benefits of being an Auditel consultant.
A new franchisee reveals: "The Discovery Seminar, based on the structure, content and the bespoke tools of the business, was very helpful. They had a professional and ethical approach, which I trusted immediately."
The number of professional men and women joining the network demonstrates the high quality of the company's services. Between 2008 and 2009, there was a 100% increase in new sign-ups and there are now over 170 franchisees.
Another newcomer underlines this: "I was looking for an opportunity to match my values, complement my key skills and experience to date. I liked the Auditel team approach to recruitment. Their clarity, honesty and core values were important in my decision-making process."
The franchisees become highly trained consultants, widely regarded as among the best in the business, and are finding great scope for their services. Many organisations today are turning to outsourced providers of cost management. Auditel's high degree of service, success, and commitment are illustrated by a 24% increase in its client base to over 3,000. The higher earners enjoy an income of over £200K.
Auditel has entered the public domain with its sponsorship of The IOD's Director of the Year Award. It is also proud to be an Official Friend of this year's Commonwealth Games in New Delhi. Some of the franchisees are also finding delight in giving back to the community and have participated in events to raise funds for charity.
To find out more about Auditel simply complete the form below

Auditel Franchise News