Auditel Franchise
Auditel Consultant gives a helping hand to The Young Enterprise in Action Challenge in Scunthorpe
18th June 2010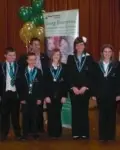 "It is always astounding to see the depth of understanding and creativity that the teams employ, let alone all their hard work and effort which is usually done in their own time." - Carl Windsor, Auditel Consultant
'The Young Enterprise in Action Challenge' gives pupils invaluable hands-on experience of the highs, lows, risks and rewards of working in a team to design, develop and construct a prototype product for a specific market sector.
The programme is enhanced by the involvement of Young Enterprise volunteer business advisers from companies around the area, who can impart specialist knowledge and skills.
Stella Onyett, Development Manager for Young Enterprise, is delighted that the programme has been run at The St Lawrence Academy in Scunthorpe, for the 4th year. She said:" For Enterprise in Action to be as effective as possible, it is crucial to engage the involvement of local business people. It really is a fantastic way for our young achievers to learn first hand about business, warts and all!
I was thrilled and extremely grateful to those volunteers from the community, including Carl Windsor from Auditel, who gave their time to be part of a judging panel at the end of the programme. I believe it is crucial that our young people have access to real role models who can motivate and inspire them. "
Local Auditel Cost Management specialist Carl Windsor, says:" I was chair of judges on the evening of 22 April 2010. This involved reading the 'mini company' reports of the five teams involved from the Academy and assessing their chosen products within the guidelines set down by Young Enterprise. Each team gave a Power Point presentation of their 'company' to the judges and assembled parents and mentioned the challenges they had faced along the way. Display stands had been built to show off their products and designs.
"These are always closely contested affairs and this was no different with only eight points separating the top three teams across the whole panel. As you can imagine, the judging was very demanding, but also very rewarding. It is always astounding to see the depth of understanding and creativity that the teams employ, let alone all their hard work and effort which is usually done in their own time. A very impressive, talented and industrious group of students!"
To find out more information about Auditel Franchise simply complete the form below

Auditel Franchise News