Auditel Franchise
Ex-IT Manager chooses to become an Auditel Cost Management Consultant
26th May 2010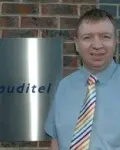 "I really felt most comfortable talking with the Auditel team: as well as appearing to be honest, open and trustworthy" - Jeremy Bailey, Auditel Franchisee
Auditel newcomer Jeremy Bailey spent 30 years working in IT. He started as a trainee computer programmer for a defence contractor in Rochester and concluded as an IT Operations Manager in the City of London for a major service provider. Having survived several rounds of redundancy, he had already thought about what he would do, should he ever become a target for losing his job.
Jeremy recalls: "I strongly believed that I could run a successful business, but with a family and large mortgage to support, I was unable simply to resign - even if I were to receive a payoff - and develop one from scratch. So the benefits of franchising and its potential to return positive income was always going to be my way, providing I could do it without significant borrowing."
Jeremy first identified Auditel as a possible opportunity in 2006, but it was not until redundancy happened in 2009 that he was able to move ahead. He says: "My approach was to focus only on franchisors who were full or associate members of the British Franchise Association. While that may have excluded some very good opportunities from my search, I'm naturally risk averse, so I needed to select an established name."
His search finally came down to three franchises, two in cost management and one in property management. He says they all looked like good businesses from which he could see himself achieving his targeted income levels within a 5-year plan. Jeremy adds: "Importantly for me, I also appreciated in all three cases, that the franchisors had put me through a selection process and were not just after my money."
Jeremy rejected the property management company for two reasons. Firstly, because he could not achieve his required income levels early enough in his 5-year plan. But essentially, because his strengths were more aligned to a true B2B business rather than one that dealt with individuals.
Jeremy explains: "The decision to select Auditel over the other cost management franchise was firstly, because I considered that the Auditel business model was a few years ahead of the other company. The second reason was more subjective, coming down to gut feeling. I really felt most comfortable talking with the Auditel team: as well as appearing to be honest, open and trustworthy, I completely believe that they are committed to helping me make a success of my business.
Having a good redundancy package, which funded the franchise in its entirety and will continue to support him for the first year, Jeremy joined the Auditel network in December 2009. He is very enthusiastic about the training and support that he has received. "It was outstanding and I felt fully prepared to take my business forward. I have experienced tremendous support, not just from the head office staff, but also from other franchisees in the Auditel Network. There is a very positive culture of cooperation and support among the affiliates that is fostered and nurtured by the franchisor."
Jeremy reveals: "I want to return to my previous earning levels before my second anniversary and to remain in this business up to retirement."
And his advice to aspiring franchisees?: "Be prepared to be truly empowered! It's great fun!."
To find out more information about Auditel simply complete the form below

Auditel Franchise News