Auditel Franchise
'Lowering the Cost of Doing Business' – Auditel's 10th Supplier Exhibition
24th May 2010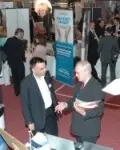 "For a decade, Auditel have been providing this forum for suppliers of services to meet our Consultants, exchange ideas and explore new opportunities" - Chris Allison, Auditel
Since 1994, Auditel, the UK's leading cost and purchase management consultancy, have acted as trusted advisors to both public and private organisations and demonstrated the most successful way to obtain best value for business expenditures.
Their specialist overhead areas include communications, energy, business consumables, water and sewerage, and premises management. However, they also work with market leaders across a wide range of the other essential sectors.
On Friday, 14 May 2010, Auditel hosted their 10th Supplier Exhibition at Whittlebury Hall near Towcester, Northants. Auditel's partner companies for the event included EDF Energy, British Gas, Gazprom, Shell LPG, Bluefin Insurance Services, Uniworld Communications, Inenco Energy Management, NatWest Mentor Services, T-Mobile, Scottish and Southern Energy and Phase Office Supplies.
The theme was 'Lowering the Cost of Doing Business' and showcased how Auditel, together with their partners, are helping organisations deal with the current economic climate, and prepare for better times ahead, to emerge stronger than before.
Auditel's Managing Director, Chris Allison comments: "For a decade, Auditel have been providing this forum for suppliers of services to meet our Consultants, exchange ideas and explore new opportunities. Last year and this, have been a time of significant growth for Auditel with a 24% increase in the number of our clients - reaching 3,000 this morning.
"We would like to extend a warm welcome to 31 of our partners and to thank them for helping us sponsor this year's Auditel Supplier Exhibition. They are the lifeblood of our business and without their ongoing support, we could not provide a market-leading service for our client base.
"This annual exhibition is one of the most important events in our calendar. It gives us a unique opportunity to build valuable relationships and develop in-depth market knowledge. It also raises our profile even higher, as the UK's leading provider of independent cost and purchase management consultancy."
To find out more about Auditel simply complete the form below

Auditel Franchise News