Auditel Franchise
Cost and purchase managers Auditel form a strategic partnership with accountancy training and compliance providers, SWATUK
11th May 2010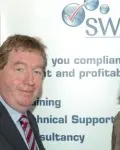 "We both anticipate enormous synergy from this relationship." - Denis Brennan, Auditel Consultant
"We are very pleased to announce that Auditel and SWATUK have formed a strategic partnership", says Auditel Consultant Denis Brennan.
Auditel is one of the UK's leading specialist cost and purchase management consultancies. Over the past sixteen years, they have helped thousands of organisations to reduce financial waste and improve their bottom-line profits.
Established in 1976, SWATUK is one of the most successful, long established accountancy CPD training and compliance providers within the UK. They work with a wide range of firms from sole practitioners to large multi-partner practices and commercial businesses.
Denis enthuses: "We both anticipate enormous synergy from this relationship. SWATUK has a client base of 4,000 firms who use them for training courses, consultancy, manuals and other technical support. They can now add the valuable Auditel free business cost healthcheck to their portfolio of services, thus creating a new income stream."
One satisfied accountancy client of both Auditel and SWATUK is Fisher & Co. Partner Phillip Fisher reported that having outsourced their overheads management to Auditel and being totally satisfied, they were only too pleased to introduce Auditel to their clients and will continue to do so.
SWATUK's Finance Director Richard Brown, agrees: "At SWATUK, we have experienced the savings that Auditel can achieve, firsthand. As well as looking into the costs, quality of service and specific contract details, they also continue liasing with the individual service providers on an ongoing basis, freeing up our staff to concentrate on other areas of the business.
"We also feel there is potential for practices to save money on a wide range of business costs. Plus, they are in a prime position to refer Auditel to their clients, so they too can benefit from Auditel's expertise."
Auditel's Total Cost of Purchase® approach takes into account all the costs – both direct and indirect – associated with making effective cost management decisions across a broad range of overheads such as: communications, energy, water and sewerage, energy efficiency, premises costs, human resources, lending, finance, environmental and waste management, fleet management and business consumables. With their contingency-based fee structure, they have made impressive and sustainable savings for their clients – without it costing them a penny.
Vicki Banthorpe, SWATUK's Marketing Director, confirms: "In the short time SWATUK has been working with Auditel, we are encouraged by the number of companies who have shown an interest in their approach. As the economic climate continues to create uncertainty, we envisage more businesses will welcome Auditel's methods of identifying cost savings."
To find out more information about Auditel simply complete the form below

Auditel Franchise News