Auditel Franchise
The Auditel cost management franchise celebrates its most successful year ever!
2nd December 2009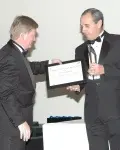 Chris Allison, Auditel MD & Peter Lawrence, Auditel Franchisee
This November over one hundred Auditel consultants gathered at Whittlebury Hall, near Towcester, for our annual National Conference, designed to inspire our Affiliates with their planning for 2010.
The theme for this year's event was 'Excellence through Leadership'. As usual, it was a packed day with presentations, workshops and quizzes, where hi-tec interactive handsets, as used in 'Who Wants to be a Millionaire?', kept everyone on their toes. An excellent keynote speech was delivered by John Neal. He entertained and educated delegates in equal measure, with a thought-provoking presentation about the characteristics of successful leaders. John's experience includes advising the BBC, the England and West Indies Cricket Boards, the MCC at Lords and the RFU.
To round off the day, delegates enjoyed a black-tie gala dinner. Sponsors from our recent Supplier Exhibition joined us. During the evening, our charity raffle raised over £1,000 for the Tearfund organisation, which is helping those in poverty. Later, a number of awards were presented to Affiliates who have made particularly special contributions to the Auditel Network during 2009.
The 'Franchisee of the Year Award' was presented to Peter Lawrence, who joined Auditel in 2002, following a successful sales-oriented career which included fifteen years in IT. Two 'Rising Star' Awards were presented to Ruth Dawe and Laurence Fitch, and Denis Brennan. 'Newcomer of the Year Award' was presented to Peter Harrison. The 'Tim Rix Memorial Award' was presented to Alan Ford. A 'Special Contribution Award' was presented to our longest-serving Affiliate, David Lowe. The 'Consultants' Consultant Award' was determined by colleagues during the event voting with their 'clickers'! Their choice was Adrian Burton.
Our winners are at different stages in the development of their cost management practices. All have demonstrated professionalism, energy, enthusiasm, commitment and generosity of time, knowledge and spirit towards their colleagues throughout the year. They proved to be popular choices to receive these well-deserved accolades.
All in all, Conference 2009 was a very successful event, combining business and pleasure for consultants, invited guests and the head office team alike. It provided a fitting grand finale to our busiest and most successful year yet. Our consultants demonstrated how the application of specialist knowledge, energy and goodwill can reap benefits in these challenging times.
To find out more information about an Auditel Franchise
simply complete the form below

Auditel Franchise News