Auditel Franchise
Auditel Consultant raises £1500 for Breast Cancer Care in The Big Apple
30th November 2009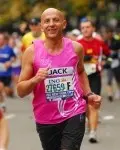 "Five boroughs, 26.2 miles, 100 bands, 42,000 runners, 2,000,000 spectators and £1,500 raised for Breast Cancer Care!" - Jack Pokoj, Auditel Franchise Consultant
Jack Pokoj, with 25 years experience in communications and IT, joined the Auditel cost management franchise in March. This month, he elected to run in the New York City Marathon to raise money for Breast Cancer Care. Earlier in the year, fellow-franchisees Daryn Dodge, Chris Gordon and Alan Ford, also took part in sporting events for charity.
The New York Marathon is one of the world's great road races, drawing more than 100,000 applicants annually. The race attracts many world-class professional athletes for the chance to excel in this media capital before two million cheering spectators and worldwide television viewers. As any one of the 700,000 past participants will attest, crossing the finish line in Central Park is one of the great thrills of a lifetime!
Jack reports: "It was 10am on the 1st November and I was standing on the Verezano Bridge in Staten Island. I had been up since 5am, but was alert with nervous energy. I could see the first tower of the bridge beckoning 42,000 runners on the start of 26.2 miles through the five boroughs of the City. Frank Sinatra's 'New York New York' was booming out of speakers as we started. Officials and police were cheering us on!
"The bridge was two miles long and led the way to Brooklyn where thousands were waiting. The wide Fourth Avenue stretched for four miles until the runners in the Green and the Blue starts met. This signalled the first of many spots where the runners ran slowly in convoy before speeding up again to race pace, when the road became less congested! Bands greeted us into Queens. Crowds kept the spirits high on this hilly section of the course. In passing, I glanced at the Empire State and Chrysler buildings on my left. Queensborough, another long bridge, was the gateway into Manhattan. The last five miles had been slow and I didn't think I'd break four hours.
"Crowds lined the full length of First Avenue, and bands played. The wall of noise lifted me to run faster. Then we crossed into the Bronx, home of the New York Yankees. After a couple of miles, we were back into Manhattan and Harlem. I had to dig deep at this stage for there was a mile-long steep hill at Central Park for tired runners to face. The crowd rose to the occasion, helping me to race up the hill and into Central Park for the last two miles. This undulating stretch seemed to last forever, but I kept up my pace before crossing the finish line in 3 hours 58 minutes."
Jack, a regular runner in the London and Paris Marathons, records the statistics for posterity: "Five boroughs, 26.2 miles, 100 bands, 42,000 runners, 2,000,000 spectators and £1,500 raised for Breast Cancer Care!"
To find out further information about an Auditel Franchise
simply complete the form below

Auditel Franchise News