Auditel Franchise
Auditel Consultant Daryn Dodge runs the Bupa Great North Run for Diabetes UK
8th October 2009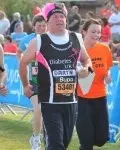 "Well, the Great North Run was an amazing experience. As I had some really generous donations - £1,000 so far - I thought it was important to make a serious attempt and not just "walk round" - Daryn Dodge, Auditel Franchisee
The Bupa Great North Run is firmly established as the world's most popular half-marathon since it first took place on June 28, 1981. Today it attracts some 50,000 competitors from all over the world. Auditel Consultant Daryn Dodge decided to take part this month to raise money for the charity, Diabetes UK.
Daryn says: "I am not quite sure how I got here but here I am about to embark on a half-marathon! Actually I do know, as I specifically choose to run for Diabetes UK for a couple of reasons. My late mum had diabetes, and as I do too, I thought the training would help me."
Daryn revealed that the last time he ran at all, was during football training about twenty years ago and so this really was a challenge! What's more his schedule was seriously impacted by a calf injury, but he managed to get through four weeks of good training. He said he didn't have a target time, as getting to the finish line under his own steam without the aid of the St John's Ambulance would be good for him!
After the race, Daryn said: "Well, the Great North Run was an amazing experience. As I had some really generous donations - £1,000 so far - I thought it was important to make a serious attempt and not just "walk round". Considering that my restricted training had not let me go beyond five miles, I was surprised that I felt quite comfortable up to ten miles. Then it was a different story as my shortened training was seriously exposed. I didn't know you could experience such pain but once I was into the last three miles I was determined to make it to the line.
I certainly managed that. I ran every step of the way without stopping or walking even once and finished in 3 hours 33 minutes and 19 seconds! This morning, I can't believe that I ran for over 3 1/2 hours, but my legs are definitely reminding me that I did!"
This year, there will be great support for charities by Auditel consultants. This is Daryn's story. Alan Ford completed the Ironman Triathlon for Cancer Research in August. Chris Gordon recorded one of the fastest ever Pennine Way hikes in September for a Gambian charity, 'Wonder Years'. Jack Pokoj will take part in the New York Marathon for Breast Cancer Care in November.

Auditel Franchise News