Auditel Franchise
Ace F1 racing engineer tunes up his career
22nd August 2009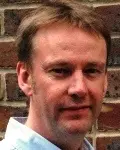 "I was really impressed with the attitude of the Head Office staff and the other franchisees" - Peter Harrison, Auditel
For someone involved as a racing car engineer since the early 1990's and with Formula 1 itself from 2000, Peter Harrison is clearly one of the most experienced in the business.
Peter says: "After ten years with BTCC touring car teams, I moved to F1 and joined British American Racing, graduating to becoming their Test Engineer before joining Jaguar Racing as Senior F1 Race Engineer to Mark Webber and Pedro de la Rosa. I then became Chief Test Engineer to the Williams F1 team working with Mark Webber, Nick Heidfeld, Alexander Wurz, Kazuki Nakajima and Nico Rosberg. At Williams, I was responsible for all technical aspects of F1 test and development operations, heading a team of Test, Control Systems and Data Analysis Engineers, and overseeing all test events in direct support of the Race Team."
With the recent upheavals in the F1 world, Peter decided to think about a different career from his first love. "I had really enjoyed my work thus far at the sharp end, working directly with the race drivers, optimising car set-ups and race strategy, but with the shake-up in F1, and our first child on the way, I needed to consider a future outside the industry."
With the downturn in the economy, many professional men and women have also been considering their future and a number have chosen to take up a management-style franchise. According to the 2009 NatWest/bfa Franchise Survey, becoming a franchisee could be a wise decision. Brian Smart, the bfa's director general, reports: "There is little indication so far of the recession having a severe impact on the franchise industry. Franchised businesses are in a much stronger position, as they have the additional protection of a proven business model and brand."
Peter said: "I really wanted the flexibility of being my own boss but I had no previous experience of running a business. So franchising was the obvious choice in my case. I can concentrate on building my own business using a proven format with ongoing help and support from the franchisor. There are so many to choose from, I thought it was going to take for ever, but Auditel quickly stood out from the crowd. I took an instant liking to their business proposition and I was really impressed with the attitude of the Head Office staff and the other franchisees." He adds: "It's been extremely tough coming from a highly paid profession in which I had many years of experience. But I'm clear about my future goals and I know this will be a better way of achieving them."
Peter says that his primary objective over the next two years is to build a successful business in order to provide the income he was accustomed to in his previous career. "Beyond that, my ultimate goals are to enjoy much more time with my family and to pursue my main hobbies of skiing, photography and classic cars!" Having already signed a clutch of new clients since he started in July, it's clear he is firing on all cylinders!

Auditel Franchise News