Bluebird Care Franchise
Bluebird Care Business
Care Management Franchise

The Bluebird Care Business is the UK's foremost Care Management Franchise in a huge and growing market...
With government initiatives backing the care at home sector, the award-winning Bluebird Care Business is well positioned to continue its rapid national franchise expansion.

The Bluebird Care Business is the fastest growing Care Management Franchise in the UK with experience in franchising and care provision you will not find elsewhere and is now part of the Interim Healthcare inc. Group, one of the largest care franchisors in the world.
Bluebird Care Business Concept
Bluebird Care is a management franchise, recruiting and managing caring and competent staff to deliver the highest standards of care. Bluebird Care Business owners come from a variety of backgrounds – experience in the care sector is not necessary.
What it requires is a determination and a strong desire to develop a successful Care Management Franchise by working to a proven business format. The Bluebird Care Business has created a process of selection of franchise owners not of franchise 'sales' and strives hard for an ethos of business partnership with their franchise owners.
The Care Market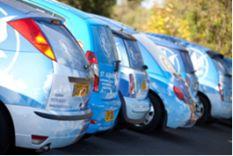 The Bluebird Care Business provides care not only to older people but also to people with learning disabilities, physical disabilities and to children and their families. Care can range from visits once, twice or more daily right through to live-in care.
Bluebird Care operate in a market currently estimated at over £20billion per annum. As more and more people are encouraged by Government to be cared for in their own homes instead of moving into residential care, the market size can only increase - more potential for your Care Management Franchise.
Bluebird Care Business: Extensive Experience
The three Co-Founders of the Bluebird Care Business are Paul & Lisa Tarsey and Simon Dalziel. They have many years experience in both the care sector and franchising. They have also put together a hugely effective head office franchise support team.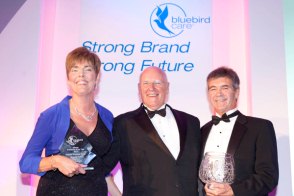 Maria Leonard and David Mitchell celebrate their 2013 Franchise of the Year award with Bluebird Care Co-Founder Paul Tarsey (centre)
This in turn has lead to the enormous success the brand has achieved. Bluebird Care is now seen as a major provider of high quality care throughout the UK and beyond, and continues to grow this reputation.
This proven track record enables the Bluebird Care Business to offer an unbeatable business and support package for their Care Management Franchise owners.
Supporting Bluebird Care Business Owners
With the experience the Company has, the Bluebird Care Business offers an unrivalled support programme to get your Care Management Franchise off to a fast start, together with ongoing help every step of the way.
Supporting franchise owners in developing their businesses is vital. The Bluebird Care Business have a team of 6 regionally based business development managers who provide front-line support to their franchise owners. The team are experienced care professionals who have managed care businesses and provide crucial advice.
You are not in business on your own – Bluebird Care want you to succeed!
The Bluebird Care Business Package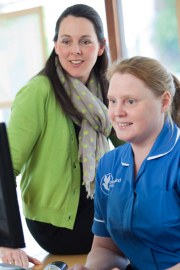 Bluebird Care offers a comprehensive business package tailored to get Bluebird Care Business owners started quickly and confidently and on their way to business success.
The Care Management Franchise package covers areas such as training, staff recruitment, stationery, marketing package, hardware and software, care registration, staff uniforms and business set up.
Full details of what is included are in the Bluebird Care Business Information Pack, request a FREE copy now, by clicking the button at the bottom of the page.
Price of franchise package - £35,000 + VAT
The Bluebird Care Business enjoys excellent relationships with the major banks in franchising – NatWest, RBS, HSBC and Lloyds TSB. Subject to status they would look to lend up to 70% of the total investment (including working capital).
The British Franchise Association (bfa)
Bluebird Care is proud to be a full member of the British Franchise Association.
Andrew Quail, Head of Quality Standards & Compliance remarked "Our quality standards for reaching this level are set high, deliberately, and to reach this demanding level a franchisor company has to demonstrate to us that they are worthy of this level of membership.."
Explore the Bluebird Care Business
The growth of the Bluebird Care Business has been exceptional by any standards. From a standing start in June 2006 Bluebird Care now have over 180 franchised offices throughout the UK and Republic of Ireland.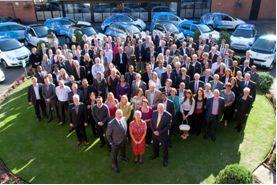 If you want...
To work with the most experienced franchisor in the sector, who cares passionately about the success of their franchise owners...
A business you will enjoy running and one which should give you a healthy return on your investment...
A business operating in a huge growth market with proven systems and procedures...
To be part of a network that knows it's business well and succeeds through an effective blend of experience, knowledge, drive, enthusiasm and professionalism...
…you need to investigate the Bluebird Care Business opportunity.
Click the button below, now, to receive a FULL FREE Information Pack on the Bluebird Care Business, the leading Care Management Franchise...