Signs Express Franchise
Signs Express Business
Sign and Print Management Franchise

This is a franchise with a big difference. Are you ready to to make a life changing move with excellent income, prospects and lifestyle?
Signs Express have been established for over 20 years. They are the UK and Ireland's leading Sign and Print Management Franchise with more than 70 franchisees. Furthermore they are a full and active member of the British Franchise Association.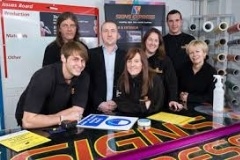 Signs Express have obtained a national reputation, since their inception in 1989, for providing quality interior and exterior signs, vehicle and window graphics and banners and exhibition displays. With their outstanding customer service this has lead to sustained growth and franchise owners have received a raft of awards for their high quality business practices.
If you are looking for an excellent business opportunity with regular repeat business, high value orders, a stable marketplace and an established brand then a Signs Express Business could be the right franchise for you.
Signs Express have built an enviable and stable reputation in the Business 2 Business arena; and it is this reputation that puts you in the perfect position as a franchise owner to succeed.
The benefits of a Signs Express Business:
Support from a team of 20 at Head Office
Access to your share of over 800 sign enquiries monthly
A dedicated national promotional fund
Access to national account clients such as McDonald's and Mercedes
Specially negotiated rates with suppliers
A Signs Express Business will provide a franchise owner with regular and repeat custom from businesses across all industries.
Is a Signs Express Franchise for you?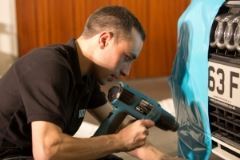 A number of franchise owners have invoiced over £5m since inception, with well established franchisees turning over £1m a year.
Signs Express have, over the years, found that many of their franchise owners expand their business and some go on to buy their own premises as part of long term financial planning.
Nothing beats the feeling of running your own business. But it's also good to know there's support and guidance available when you need it. As a franchise owner you will enjoy both. Whether you are looking to start a new business, buy a business or re-brand a sign company to become Signs Express, there are many areas available across the UK & Ireland.
The Franchise Package:
No industry experience is required as you will receive full training such as the four week training programme which is included within the package. Signs Express also have an excellent relationship with all leading banks to help you secure finance.
As a franchise owner you will also receive:


A comprehensive start-up package
Ongoing support from a team of experts at Signs Express Franchise Head Office
Buying power as the leading signs and graphics company
Access to national account customers
The Signs Express Investment:
Signs Express have recently adjusted their franchise offer, meaning they will invest the franchise fee into your Sign and Graphics Business. A massive 45% saving on their previous offering. They are investing £20k into new franchisees businesses making the start-up costs for establishing your own Signs Express significantly more affordable. Instead of £80k + working capital, you now require just £45k + working capital*.
*Major banks can fund up to 50-70% of the cost, dependent upon your financial history.
The total investment is £120,000 + VAT. You will need a minimum personal investment of £45,000 which will include all you will need to set up and run your Sign and Graphics Business.
Capital requirement £45,000
Typical bank loan £75,000
Total requirement £120,000
With your investment you can build your own successful business using the established brand name of Signs Express. Plus, at every stage, you'll have the comforting knowledge that you have the expertise of a national network behind you.
Testimonials:
"Starting in business from scratch really gave us a sense of achievement. When we started looking there wasn't much scope for buying an already established franchise so we were lucky that our local area was still available. It was ideal and fitted well with our requirements." – Nick Baxter-Sibley, Franchisee, Exeter.
"Financial security is the main reward along with the freedom of being my own boss and the pleasure of seeing my business grow." – Nick Dawes, Franchisee, Ipswich.
"The business has allowed me to spend more time with my family and gives me the freedom to choose my working hours." – Jayesh Patel, Franchisee, Twickenham.
"We've doubled our turnover from £240k to £500k and we're still seeing steady growth." – Malcolm Lant, Franchisee, Gateshead.
Find out more about the Signs Express Business, the exciting Sign and Print Management Franchise. Click the button below and request a FREE Information Pack now!..