Revive! Franchise
Industry Profile - 'Scratch beneath the surface' – because not all Smart Repair franchises are the same.
1st August 2009
At a time when the UK is suffering from the worst recession in decades you may be wondering why more new companies are entering the Smart Repair franchise arena. The answer is simple really; the market for Smart Repairs is bucking the trend and continuing to grow.
Growing in a recession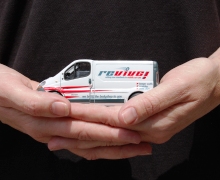 Revive! reported a rise in interest from the general public almost as soon as the recession started to hit last year as more private car owners started to look for cost effective methods of keeping their vehicle looking good. While new car sales have been significantly affected Revive! have been fortunate enough to pick up lots of work tidying up cars for car owners who have held onto their vehicles when normally they would have bought a new one.
Since then we have also seen more and more demand from other markets as both insurance companies and fleet managers alike are realising that a Smart Repair is much more than just the poor man's solution to a body shop repair.
So if you are thinking of setting yourself up in business as a Smart Repairer how do you decide which one of a number of Franchises available is best for you?
Scratch beneath the surface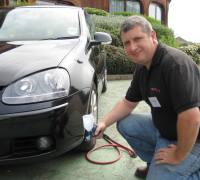 Please excuse the pun but you really do need to 'scratch beneath the surface' and spend time doing your due diligence into which company best matches your needs.
Some franchisors use 'razzamatazz' marketing their product as almost too good to be true. They may describe themselves as 'market leaders' or 'the world's most advanced' but should you simply take this claim at face value or do you dig deeper to find out what exactly this means?
At Revive! we try to strip away the gloss and give you honest and down to earth advice. Self employment is not easy, even with the help and support of a good franchisor. There is no gadget you can buy that will guarantee your quality or success – that's down to good initial training, exceptional long term support and a lot of hard work!
Make sure you thoroughly compare companies in this sector; look closely and scratch beneath the surface. We are confident that the Revive! smart repair franchise will stand out above the rest.
Questions you should ask your potential franchisor:-
Is everything I need to set up a successful smart repair business included in the publicised Start up Package or are there any hidden extras I need to know about?
Revive! will give you everything you need including hotel accommodation, promotional marquees, business launch, business mentor. There are NO hidden extras.
Can you back up claims of expected earnings with actual results of franchisees that have been trading for a number of years?
Revive! will not make wild claims but can provide real franchisee data and historical financial information that will allow you to build a realistic and achievable business plan - your plan for success.
Will you allow me access to your full list of franchisees who can confirm the level of support available?
Our franchisees are our best references and because we have been trading for a number of years we have franchisees at varying levels of success and size. We will allow you access to our full list, not just the best ones to allow you to confirm whether you fit the Revive! profile.
Will you allow me to promote my business to ALL customer types or are any sectors excluded?
Revive! allows its franchisees access to all customers. We particularly target the trade; 'the car dealerships' as our franchisees are technically trained to a level that will pass the inspection of the toughest customers.
Our reputation is paramount to us and the training undertaken means that our franchisees are technically superior to the 'average SMART repairer'.
How large are the territories you offer to franchisees and what is my opportunity to grow my business without having to purchase an additional territory?
We award exclusive territories large enough to support a managerial franchise owner operating a fleet of at least 5 vehicles, with no additional franchise fees.
You may find that Revive! is the only company in this sector that will give you honest and straightforward answers to these question.

Revive! Franchise Special Features