Revive! Franchise
Ten Top Tips to Help Keep Your Vehicle Fleet in Tip Top Condition
15th October 2009
Keeping your vehicles looking pristine at all times is one of the most important aspects to maintaining a good reputation in your local area.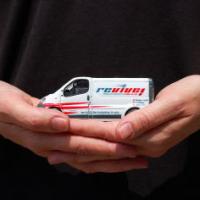 Because hearses and limousines are much bigger than ordinary cars, the occasional kerb bump or wheel scrape are unavoidable even for the most experienced of drivers. It can be expensive and time-consuming to have to take a vehicle to the bodyshop for repair, but an alternative, more cost effective solution is to call in your local Revive technician who can repair most small stone chips, scuffs, scrapes and scratched alloy wheels on your own premises.
Revive! Is the country's leading smart* repairer and has extensive experience of working on hearses and limousines servicing contracts with major undertaking firms throughout the UK.
Revive! managing director Mark Llewellyn offers these ten top tips to help keep fleets looking smart and on the road
1. Always use a good quality wash system – cheap detergents can damage shine or fade paint.
2. Use high quality chamois or micro fibre cloths to dry the vehicle
3. Do not valet vehicles in bright sunlight
4. Regularly apply a high quality wax to the vehicle – at least once a month
5. Remove all watches, bracelets, rings or other jewellery before applying wax.
6. Don't apply/polish wax in circles, always use straight lines
7. Regularly apply a treatment to the interior of the vehicle e.g. leather to stop it drying and cracking – use a good quality leather care cream
8. Garage vehicles when not in use and avoid parking under trees for any length of time
9. Have the vehicles inspected regularly by an expert to identify scuffs/ scratches or stone chips
10. Get minor scratches, scuffs or stone chips repaired as soon as possible to avoid corrosion.
**'SMART" is a term used in the car bodywork profession. It stands for Small to Medium Area Repair Technique.
To find out further information about Revive! click below to request your FREE franchise information pack

Revive! Franchise Special Features