Autosmart Franchise
Youngest ever Autosmart franchisee
13th January 2012
Paul Daley-Smith has been an Autosmart's franchisee for nearly 6 years. "I left school at 16 to serve my engineering apprenticeship in the local bacon factory. Just twelve years later I was the proud owner of my own business and Autosmart's youngest franchisee at the time," says Paul.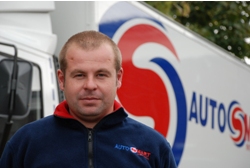 "Most Autosmart franchisees have never sold anything before and the simple one-man business concept means you don't need management experience. Best of all, it was selling vehicle cleaning chemicals and I've always been mad about anything with wheels!"
"Even the recession hasn't dented my success. At the moment my turnover is growing by 20%. At the height of the recession I invested in a brand new mobile showroom, to help drive my business forward. We take the showroom to our customers and show them what we do. My potential customers see a very professional, exceptionally well laid-out vehicle, with everything they need on show.
"My success has given us huge personal gains. We now have a 3rd child and plan to move into a much bigger house next year, something that would have been out of reach on my engineer's salary.
"The great thing about Autosmart is it helps inexperienced people like me to become very successful, making more money than they ever thought possible. For someone who left school at 16 with no formal qualifications, my business success means everything to me and I have achieved more than I ever thought was possible."
To find out more about Autosmart franchise simply complete the form or click the button below

Autosmart Franchise Case Studies