SureCare Franchise
Happy 1st Anniversary
14th September 2010
SureCare (Cambridge) celebrated their first anniversary in style with a glittering celebration evening at the Marriott Hotel in Huntingdon.
Owners, Jorge Sacramento and Joseph Garcia hosted the event to thank their staff and families for their hard work and support.
In just 12 months, the success of the business has exceeded their expectations and they now employ 84 staff supplying in excess of 5,000 hours of care.
Jorge Sacramento, owner of SureCare (Cambridge) said: "We received fantastic support from inception. The guidance and help with everything from recruitment to office lease details, allowed us to hit the ground running. The support is continuous and is there when we need it. Choosing a SureCare franchise was a great decision!"
To find out more information about SureCare franchise
simply complete the form below

SureCare Franchise Case Studies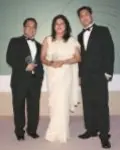 Creating success with SureCare
31st May 2012
Jorge Sacramento and Joseph Garcia set up SureCare Cambridge in 2009.