Bluebird Care Franchise
Rapid Expansion Planned For Bluebird Care Franchisee's
1st July 2009
BROTHERS-IN-LAW Tushar Shar and Mehul Shar joined care at home franchise Bluebird Care in July 2007 with two territories covering Reading & Wokingham and Windsor & Maidenhead.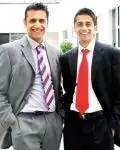 "Our aim from the start was to build a substantial sized business," Tushar reveals. "However, we did not want to compromise on the quality of care our franchise would provide to local residents, so we agreed to develop one territory at a time."
Almost two years later, Reading now has an established client base with 55 customers on the books and a growing waiting list. Now the pair are focussing their attention on their second territory: Windsor & Maidenhead. "We aim to have a second office up and running by the end of this year and hope to be closer to our goal of a £800,000 annual turnover," says Tushar.
"Mehul and I decided to go into business by ourselves because we were fed up with the corporate politics - Mehul used to be an investment banker and I worked in commercial sales and marketing. We left our jobs and set up healthcare and photography businesses by ourselves, but it was a tough learning curve."
"We first heard about the opportunity for growth in the care at home sector while conducting research for our healthcare business. Intrigued, we researched different care at home businesses. Eager to avoid the pitfalls of running our own business again, Mehul and I decided to invest in a reputable franchise and Bluebird Care, with its ongoing comprehensive support, training and focus on providing the private sector with quality care, was our first choice."
The pair are keen to highlight the value of becoming part of a network. "We have formed close friendships with a couple of franchise owners, which have proven invaluable," Tushar points out. "The benefit of becoming your own boss is being able to work flexible hours without hindering your career prospects, so now we can spend more quality time with our families."

Bluebird Care Franchise Case Studies