Bluebird Care Franchise
JANE PERRY – from foster mum to franchisee
3rd March 2009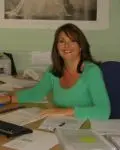 As a full-time foster carer for children, Jane Perry is well used to the concept of putting something back into the community and that people of all ages want to live in a caring, home environment. So when she received her FOURTH redundancy notice in a 20-year career, she decided to take control of her own destiny and set up in business that made sound commercial sense – but was also rewarding emotionally.
Striking out on her own was a brave move in the current economic climate, but to Jane the possibilities seemed endless. She investigated several options but finally decided to join the successful Bluebird Care franchise network, providing professional care to people in the comfort and security of their own homes.
Her Edinburgh office opened in June and offers a wide range of services, ranging from personal care through to practical help such as shopping, laundry and ironing. Careful research revealed that more and more people want to stay at home for as long as possible, rather than going into residential care – and that frequently they seek a personal, bespoke service, rather than relying on state provision.
Jane said: "Although I come from a business background, I wanted something which made sound commercial sense but also put something back into the community".
"As a full-time foster carer, with my husband John, I know how rewarding it is to do something worthwhile, that really makes a difference to people's lives." "We provide care not only for older people, but also adults with physical disabilities. I am determined that every single one of them will receive the same high standard of care that I would provide to a relative or friend".
"It became obvious, very early on, that a lot of people want more than the state can offer, and we offer care packages that are tailored to the individual and their needs. It is probably no coincidence that Bluebird Care's ethos is one that promises good, old fashioned service".
Jane started her career at the tender age of 15 and put herself through college at nights and weekends doing HNCs in both Accountancy and Management - while earning money in a variety of roles in lending, debt recovery and then accountancy. Part way through her accountancy studies, she was given notice of her fourth redundancy in 20 years and decided to take control of her working life.
Four months after opening her Bluebird franchise, Jane now employs 10 full-time care workers, along with her care manager Janet McGregor, and operates from offices at Castlebrae Business Centre. The business is very much in its early stages and operates on the principle of "all hands on deck".
Jane undertakes all areas of work, including advertising recruiting and training – and delivering care in people's homes. On a personal note, she offers full-time foster care to children in local authority care, as well as providing respite care.

Bluebird Care Franchise Case Studies