Auditel Franchise
Engineer finds a 'huge opportunity' with Auditel
16th March 2011
David Jamieson, winner of Auditel's 'Newcomer of the Year Award', joined their Cost and Purchase Management Franchise in October 2009. Initially, he trained as a Mechanical Engineer and he had progressed into senior management roles in several sectors. These included manufacturing, power generation, engineering and construction.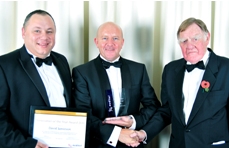 David recalls: "I thought of starting my own business which is not an easy decision to make. Many people move into self-employment as a result of redundancy with funding from whatever package they have received. However, in my case with a very good job in a very good company, I chose to forfeit my job security and corporate trimmings voluntarily to follow my gut instinct."
David chose franchising and Auditel in particular, whilst surfing the internet for ideas. He needed his business to hit the ground running and could only do this with a proven product and a brand that had significant market presence. He adds: "Auditel had both. Although the brand awareness was not as established in the North East as in other areas, I saw this as a huge opportunity due to the excellent service offering."
David explains: "I selected Auditel because of the professionalism and genuine sincerity they offered when assisting me to determine whether this was the right business for me. They stood head and shoulders above other Cost Management Specialists in terms of expertise and experience in this sector."
He funded the capital investment himself and financed his living costs through a business loan. Auditel introduced him to two or three commercial bank managers all of whom were willing to fund his requirements. This was at a time when small business funding was scarce and it gave him added confidence that his investment was well placed.
David reveals: "The training and support that I receive from Auditel is exceptional and is everything they promised it would be. My business is growing steadily and is, in fact, ahead of forecast. I am learning from every project I deliver. For example, I have been able to save Newcastle Business Village £53,000 on their annual energy consumption."
Asked about his future, David enthuses: "I shall develop my business in both turnover and customer base. Expanding my services will give me the huge job satisfaction that I get from providing practical help to organisations in reducing their essential business costs. Nothing has changed my mind about this being the right decision!"
To find out more information about Auditel franchise simply complete the form below

Auditel Franchise Case Studies