Auditel Franchise
Engineering a partnership with Auditel
3rd February 2010
Salisbury-based Steve Ray was formerly Production Director of the UK-arm of an Italian-based engineering company and joined Auditel in September 2007.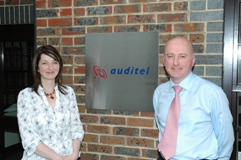 He says: "To make a transition into running my own business as smooth as possible, I chose franchising. This provided immediate access to a proven business model and an industry knowledge base. When I was looking, some franchisors impressed me more than others. Auditel impressed me most of all. The enthusiasm to build and support their network was hugely influential in my choice. "
Steve commented on the initial start-up programme. "In my opinion the training and support from Auditel is superb and has just the right balance. There is as much as you need or want, without it being forced upon you. It is evident that great effort is given to keeping everything updated and fresh."
There has been good progress since 2007. Clients have been obtained in various industry sectors including Leisure, Education, Charity, and Manufacturing. He reveals: "The challenges encountered so far are many and varied. However, they have all been made easier to overcome by tapping into the support offered by head office and my fellow franchisees. I plan to grow the business in various industries to prevent reliance on any one sector or client profile, and develop strong, professional and friendly relationships."
Last year, Steve invited Claire Power-Browne to join him as a partner, as part of his planned growth of the business. She had just spent four years as the Overseas Programme Manager for a UK-based charity with wide-ranging responsibilities where 'every day was different and during that time I gained a diverse skill set.' Claire adds: "So if you need a goat milking, I'm your woman!'"
Claire continues:" I particularly liked the values of Auditel and the choices it offered me." She also thought the initial start-up programmes were excellent. "They were great. I left feeling confident that I could actually deliver what I had been taught. There are inevitably times when you think 'I can't do this', but the support system in place is excellent. There is always someone who is willing, and able, to help. Obviously, I have been incredibly fortunate to enter into partnership with Steve who was already running a successful franchise. His help and advice has been invaluable to me in progressing some of the projects undertaken and in how to manage clients. I have also benefited from many other Affiliates, who have generously shared their experience."
Claire explains: "Steve and I work separately. Geographically there are 150 miles between us, so we have had to ensure that our CRM systems were able to synchronise remotely, and that we make time to discuss clients. Initially progress was slow, but things are now really starting to take shape. It's really motivating to see that the Auditel model does work and to realise that I can do this! The professional development training I have received has been fantastic and has really allowed me to 'skill up' with a view to growing and developing the business.
"I aim to sign a further 12-15 clients in the next twelve months and use my previous experiences to bring greater benefit to clients, particularly Charity or Third Sector organisations. I also intend to carry on enjoying what I do and who I work with!"
To find out more information about Auditel Franchise simply complete the form below

Auditel Franchise Case Studies