Expense Reduction Analysts Franchise
Looking forward to another 10 years of delighting clients.
12th June 2012
One of ERA's most widely experienced and respected consultants, Steve Whitlam joined over 10 years ago after a successful career in bank management. Steve leads ERA's Banking Team in projects gaining procurement solutions and significant savings for clients of all sizes and industries.
A previous winner of the 'Associate of the Year' award, Steve has successfully used his skills to delight his clients during his career with ERA.
Based in Nottinghamshire, Steve has been married for almost 30 years and has 2 adult children. In his spare time he enjoys golfing, photography and travel – in the last 2 years he has enjoyed trips to the West Coast of America, New York, Germany, Norway and the West Indies.
Why did you decide to buy a franchise?
I was feeling frustrated with the direction of my career and was looking for a new challenge. I gave it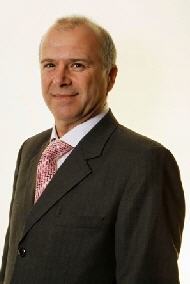 some thought and identified that I required a role that would enable me to interact with businesses, in particular working with key decision makers. I enjoy negotiating and achieving savings so the concept of ERA seemed like the ideal solution for me.
Why did you choose to join Expense Reduction Analysts?
I was aware that a franchise had a much better chance of survival than starting a business on my own. I was looking for a white collar opportunity where I could use the skills from my previous roles to the benefit of other organisations. This is what led me to my ERA business.
How did you raise the finance?
The situation with my employer at the time was static and I wasn't challenged in my position. I was presented with the opportunity to take voluntary redundancy which I used to fund my new business venture.
What challenges did you face in your early days?
When you run your own business, every decision lies with you and you have to hold yourself accountable for the success of your business. It requires a lot hard work, determination and self-motivation but if you can accomplish this, the results are worth it.
What do you enjoy the most about being an Expense Reduction Analyst consultant?
I really enjoy the negotiation aspect of my work, not simply negotiating the lowest price for my clients as quick-win savings can result in problems. I relish achieving the best deal for all the parties involved and aim for a win-win-win outcome where my client, the supplier and my business all benefit from the arrangement.
The financial aspect of this job is also extremely rewarding. It has allowed me to enjoy a 6 figure salary consistently, excluding the first couple of years.
How has being your own boss changed your life?
The freedom to arrange my own work schedule is great; I can work on a Sunday if I wish to take a couple of days off mid-week. I have just got back from a 3 week holiday that I wouldn't have been able to take if I were working in the corporate world.
For me, the most significant change is that I am no longer required to satisfy managers by doing things that I don't see the value in doing. Now, I only spend time on the work that I truly believe in which is much more satisfying.
What are the highlights of your career since joining Expense Reduction Analysts?
A real pivotal accomplishment in my career was when we formed the ERA Banking Team around 8 years ago. I and some other consultants from a Banking and Finance background decided it would be advantageous to pool our knowledge, expertise and skills. This has resulted in achieving exceptional savings for many clients.
A personal highlight of mine is winning the 'Associate of the Year' award in 2003 which I was delighted with. That year, I had contributed much of my time and effort to the development of other associates' businesses, accompanying them on meetings and such. This was the basis on which I won the award and I was so pleased.
Which biggest clients / most successful projects stand out over the years since joining?
One that particularly stands out is a well-known fast food chain where I uncovered savings of around 80%. I have also worked with an iconic denim retailer and an established video and DVD rental company.
Why have you decided to renew after 10 years?
It just seems like the natural thing to do; I'm not quite ready to hang up my boots yet! When I joined ERA back in 2001, I always saw it as a 20 year venture and am I doing well so it just makes sense to continue the success of my business.
What are your future plans for your business?
To develop the Banking Team and continue delivering great service to our clients by adding value, identifying savings and assisting them in achieving effective procurement.
What strengths do Expense Reduction Analysts have that differentiates them from other cost reduction companies?
In my opinion, it is the breadth and depth of our category expertise and the specialist knowledge we have across a number of different areas of business. Another great benefit of our franchise is that it provides the opportunity for our associates to grow and develop their specialism, as each client has different circumstances, our expertise never stops expanding.
Would you recommend Expense Reduction Analysts to others looking to purchase a cost reduction franchise?
Yes, for the right person it can be the ideal opportunity. If you have a great work ethic, motivation in abundance and the independence to work for yourself, this franchise can make you incredibly successful.
To find out more information about Expense Reduction Analysts franchise just click below to request your FREE franchise information pack


Expense Reduction Analysts Franchise Case Studies